March 2nd is a special day,

I wait for it to come my way.

A day to party and let loose,

and to say...
Happy Birthday Dr. Seuss!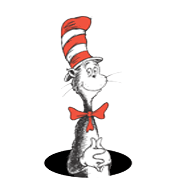 Another reason to love March is because today, March 2nd, is Dr. Seuss' birthday, and who doesn't love Dr. Seuss? That wonderfully creative man who gave us such great stories. I told the hubbo that in honor of today I was going to rhyme everything I said. But I don't see me rhyming all day.. I do have to go run some errands. I'd get some funny looks if I walked up to the post office counter and said, "Please I would like to mail this box. No it does not contain a fox. The only thing that's in this box, is a cute little pair of stripey socks!" Haha, that would be too funny :D Speaking of socks, I will celebrate the day by wearing said super cute stripey socks.
Anyone who knows me, knows I *love* socks, the longer and stripier the better. Toe socks included :D So anyway, whether you celebrate Dr. Seuss' birthday or not, I leave you with this quote from the man himself, because I think it's an awesome quote..
"Today you are You, that is truer than true. There is no one alive who is Youer than You."